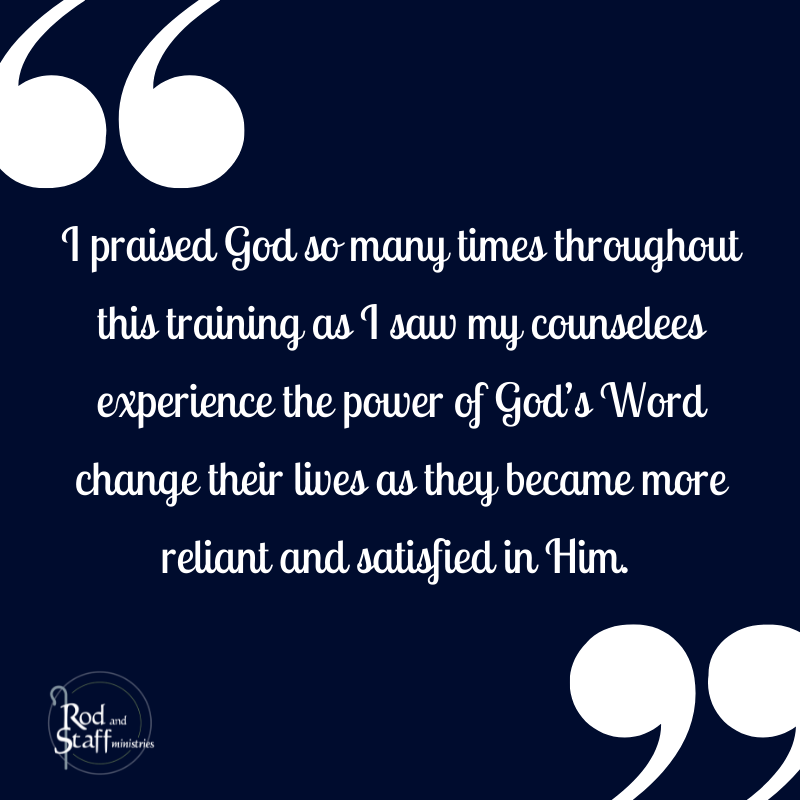 I saw my counselees experience the power of God's Word
I am forever grateful that God crossed my path with Jim Fain.  
I have grown so much from the way he used the Word of God to teach me how to help people with the problems they face in their soul. I praised God so many times throughout this training as I saw my counselees experience the power of God's Word change their lives as they became more reliant and satisfied in Him.  They were able to dig into their problems not to get relief but rather be fully redeemed to Christ.  
Jim so intentionally points back to Christ in all things from a place of deep enjoyment of Christ in his own life.  He has a gift for cutting straight to the truth so that we can to greater capacities enjoy what Christ has done for us.  
I was amazed at his ministry even in his correcting of my counseling reports. He noticed specific words I used and how my words showed something about my theology.  These corrections were huge in understanding my own thinking and meaning behind words.  I got excited every time he sent back my counseling reports because I learned so much from his comments. I also recorded every time I got to meet with Jim because they were so full of incredible wisdom and helpful Biblical teaching for my counselees.  
I was so sad to be done with my supervision hours because meeting with Jim was so fruitful in my life.  I plan to spend the next several months listening again and organizing all my notes from my time with Jim, because he has taught me so much in a short time. 
~ Angel (Supervision Graduate)
Get the Faithful Friday Blog delivered to your inbox!