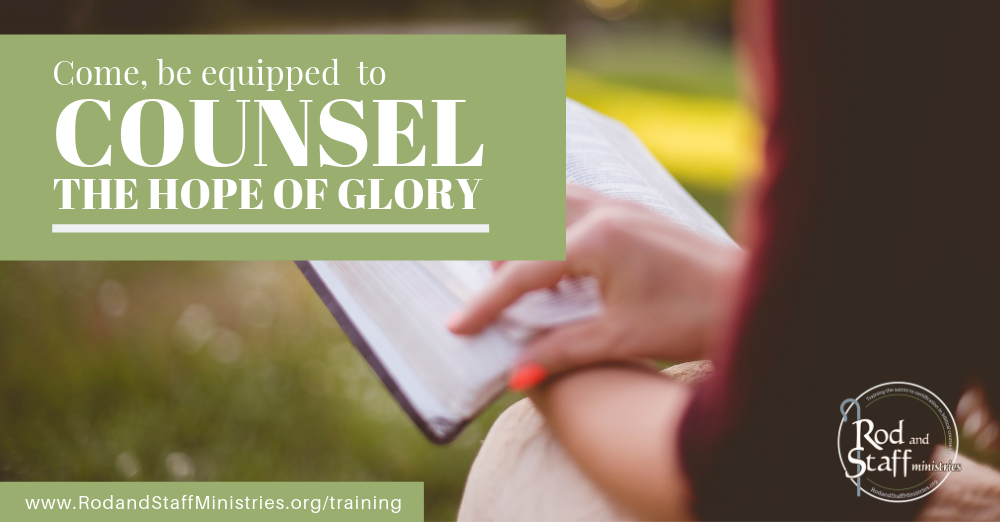 Counsel the Hope of Glory
Beloved,
You are a counselor.  What are your goals in your counseling?  
When Paul thinks of the grandest truths of Christianity….like that which he proclaimed to the Colossians…
"To them God chose to make known how great among the Gentiles are the riches of the glory of this mystery, which is Christ in you, the hope of glory." (Col 1:27)….
He then turns immediately to goals…
 "Him we proclaim, warning everyone and teaching everyone with all wisdom, that we may present everyone mature in Christ" (Col 1:28).
Paul wants his readers to have that hope of glory…to know Jesus…by being conformed into His image ("mature in Christ").  Not only does Paul give his goal, but also the means…The means by which people would become mature in Jesus and thereby experience the HOPE of glory (and who doesn't know someone who needs hope?)….is proclaiming Jesus to folks…We proclaim Jesus.  There is nothing better to have than Jesus.  Jesus is the soul's greatest good.  Jesus is not the ticket to something better, He is THE goal of life…and the proclamation of Jesus includes teaching and warning (the Greek word in the word from which we get Nouthetic Counseling)….everyone.
Everyone needs to be taught Jesus and everyone needs to be counseled Jesus that everyone may be mature in Jesus that everyone may experience the hope of glory. This goal of Paul's was so lofty, so good, that he was willing to agonize to see it brought to fruition in people's lives…
 "For this I toil, struggling with all his energy that he powerfully works within me" (Col 1:29).
If God has given you a desire for the same, come and be equipped to counsel the Words of Life.
10,000 Blessings in THE Wonderful Counselor,
Jim