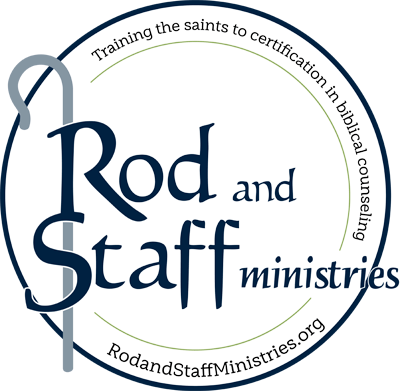 Be a part of testifying to Christ and to the sufficiency of His Word!
Invest in Rod and Staff as we seek to extend our influence and training in 2023. 
Thank you for your interest in making an online donation to Rod and Staff Ministries. You may fill out the form below to make a one-time donation of any amount you chose or to setup monthly or annually recurring payments to our ministry.
Checks can be made out to Rod and Staff Ministries and sent to: 
Rod and Staff Ministries
5500 South Gray Road
Indianapolis, IN 46237
Through Scripture, a counselee was able to see how even though she had been hurt and sinned against by another, her response demonstrated that she was more concerned about herself than her Lord. She learned that her greatest enemy was not her suffering or the person who caused her harm but, rather, the enemy is herself and her self-sufficiency. She learned that God, in His sovereignty and wisdom, uses suffering to kill the enemy. This truth first convicted her of her sin of worshiping self, and then encouraged her to go to the cross for forgiveness, praying for His grace to be able to live a life that honors Him rather than self. This truth freed her from self pity and victimhood and showed her the purpose of her suffering…becoming more like Christ so that He might be glorified.
I realized how much I feared man, but I did not understand that I had put that fear of man on God's throne. Replacing my fear of man with the reverence of God and seating God on His throne has given me a peace I have been searching for and desiring for many years!
 I praised God so many times throughout biblical counseling training as I saw my counselees experience the power of God's Word change their lives as they became more reliant and satisfied in Him. They were able to dig into their problems, not to get relief, but to be fully redeemed to Christ.