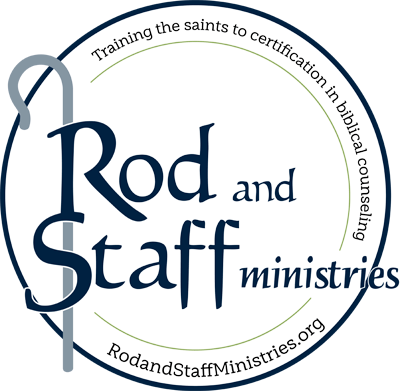 Be a part of testifying to Christ and to the sufficiency of His Word!
Invest in Rod and Staff as we seek to extend our influence and training in 2022. 
Give a One Time Gift:
To give by Credit Card with no fees,
Checks can be made out to Rod and Staff Ministries and sent to: 
Rod and Staff Ministries
560 Tracy Road, Ste B
New Whiteland, IN 46184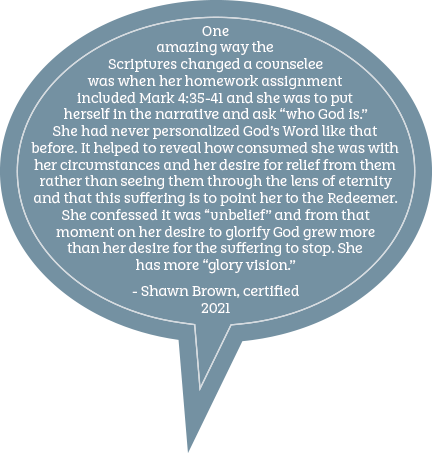 As this year closes, if giving a large one-time gift isn't doable, we also partner with monthly donors who help sustain us through monthly offerings that fit their budget.
Would you consider giving monthly?
As a certified biblical counselor, I have had the joy of seeing how the truth of God's word brings about Christlike change and healing to broken people. 
One case in particular comes to mind. I recently counseled a wife who had been hurt deeply due to her husband's infidelity. By God's grace, and with the Spirit's help, she was able to forgive him.  Likewise, with God's help, the husband has demonstrated signs of having repentance unto life. 
However, the wife came to me because she was feeling numb emotionally. She wanted to have correct emotions, not only about her marriage, but about all of life.  
As we met and studied Scripture, she came to understand that her emotions are breadcrumbs that leave a trail to her deepest loves. In other words, her emotions reveal what it is she truly treasures. 
Most importantly, as we met, she came to understand that the way to have proper emotions, and to process them biblically, is to have Christ be her chief love.  When Christ is her chief love (rather than herself, or something else), she will bear the fruit of healthy, God-honoring emotions. In light of 2 Corinthians 5:14-15, she is now asking herself in each and every situation, "How can I glorify Christ in this moment?"  
I am so thankful for the training I received from Rod and Staff Ministries. I have learned how to better minister to people with the truth of Scripture because of the instruction I have received.  Indeed, I have grown myself as a Christian because of Rod and Staff's solid biblical training.